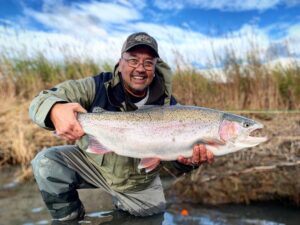 (4 hours)
Fishing equipment provided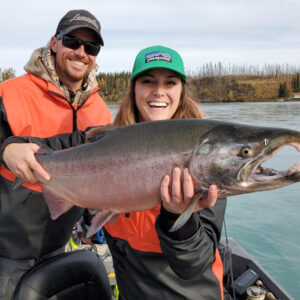 (8 hours)
Fishing equipment provided
Kenai Fly Fish is owned and operated by lifelong angler Ian McDonald. A passionate angler, Ian has made a lifestyle and career pursuing the Steelhead, salmon, and trout found in the Pacific Northwest. He has traveled the world to catch many exotic species, yet remains committed to the world-class fishing on the Kenai Peninsula, Alaska. Kenai Fly Fish will provide you with top-of-the-line rods and reels designed for species-specific methods of angling for the fish being pursued. With a combination of knowledge, skill, and hard work, your guide will be committed to making your fishing adventure enjoyable and successful.
---
Guide Bio: Ian McDonald
Ian McDonald was raised in a small skiing community of Girdwood, Alaska. He began a lifetime of fly fishing at the age of 7 while exploring the rivers of Alaska.  Trish, Ian's mother worked for a Cooper Landing fishing and rafting lodge, Alaska Wildland Adventures in the 90s. Ian often went along on trips and got his start helping as a net boy and fly tier. He spent his formative years connecting with the Kenai River, and its Glacial fed tributary rivers.
Starting his fishing career as soon as possible he found an opportunity to guide in Bristol Bay when he was 18. He's fished dozens of rivers for salmon and trout over the years. Ian spent four months in the wilderness of Katmai National Park on floatplanes, jet boats, and rafts. Fishing around some of the largest brown bears was an everyday experience. His career had inspired him to become a photographer and has taken some amazing photographs over the years. Recently he has become the Cortland Representative for Alaska. Fishing has become his life and he is as dedicated as anyone out there.
---
Guide Bio: Bones

Woof. Fish. Repeat.